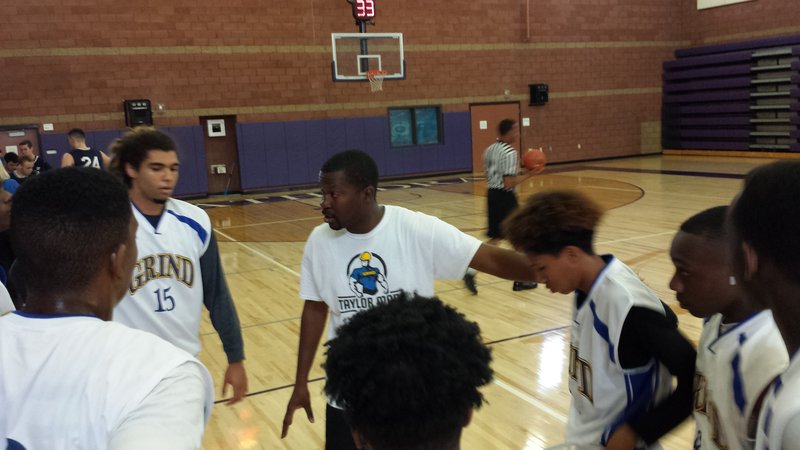 Coach Jamal Edwards, founder of the Taylor Made Prep Academy is a native of Taylor, Michigan.
As a standout high school student athlete he was a multi- All Conference, All Metro Selection and lettered in 3 different sports.
Given the opportunity to play his true passion (basketball) at the collegiate level, Coach Edwards has established relationships with people from all over the world. He has played at Alpena Community College, University of Minnesota- Crookston, the University of Windsor, and in Switzerland, Germany, and Austria.
During a basketball course in his senior year of college, Coach Edwards had an assignment to teach one offensive drill and one defensive drill to a group of classmates. His group consisted of international students with no experience in basketball and English was their 2nd language.

He felt at ease instructing his group through the drills, and it was from that experience he realized his true calling, "coaching".
Invited back to be an assistant coach at his alma mater (University of Windsor) Coach Edwards wasted no time in making an immediate impact. His ability to recruit brought in a top 5 recruiting class in his first year of coaching and he lead the University of Windsor to two runner up finishes in the prestigious St. Cecilia Summer Pro Am in Detroit Michigan.
Having a desire to give back to those who gave so much to him, Coach Edwards started the Taylor Made Basketball Academy (2005) in efforts to give the kids from his hometown the same instruction he was exposed to with added academic and athletic opportunities.
Coach Edwards has ran camps in Michigan, Ohio, Minnesota, Virginia, New Mexico, Georgia, Texas, Iowa, Kentucky, Arizona, Pennsylvania, Indiana, Wisconsin and Ontario, Canada. In addition to coaching at multiple levels (College basketball, AAU, Nike Elite Training Programs), Coach Edwards has trained and developed multiple Division I student athletes.
Through the Taylor Made Prep Academy, his mission is to provide student athletes in underserved communities both domestic and internationally, exposure opportunities for college athletics through a multi-sport prep academy program.
Coach Edwards has a bachelor's degree in Communications from the University of Windsor and is currently pursuing his Master's in Sports Management at American Public University. To contact Coach Edwards email him at jedwards@taylormadeprep.org